Honsa® Ergo Arm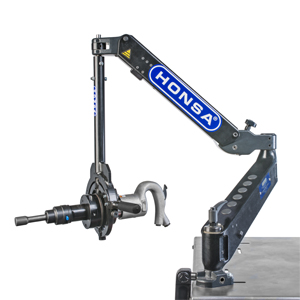 For those applications that require the operator to hold a heavy tool for extended periods of time or the need to achieve superior product quality output is desired but a traditional suspension system is not possible due to work station constraints, the NEW bench-mount, or magnetic-mount Honsa® Ergo Arm (HEA) with the exclusive Honsa® Gyro-Bail (GB) is just the solution.
Enjoy zero-gravity, enhanced tool maneuverability within the work envelope. Whether it's a chipping, grinding or scaling application, let Honsa® assist your workers in obtaining a higher level of productivity and an improved quality of task accomplishment resulting in increased corporate profits.
Weight Range: 0-77 lbs
Maximum Reach: 68"
Vertical Distance: 45"